As the Rewire 2021 online edition starts tomorrow, take some time to get familiar with our festival theme of (Re)setting. Having been conceived originally for Rewire 2020, which was cancelled due to the pandemic, we decided to revisit the theme for the online edition, taking into consideration the drastic changes to society brought on by our current times. 
Image credit: alpha_rats' avatar
The central thread running through the programme of Rewire 2021 is the notion of (Re)setting, exploring processes of constant change and adaptation as they relate to sound, acoustics and the environment. In an increasingly fraught global context, (Re)setting seeks a moment to pause and reorientate ourselves. How can a festival still be meaningful in times of large-scale isolation in an industry that fed off of liveness and proximity? The theme folds in our current context of the pandemic and how this has affected all aspects of our lives, from our health to our ability to create and connect to one another. With (Re)setting Rewire offers a platform for composers, artists and thinkers who are engaged in world-building to reflect on this new era of physical distance, insecurity and loneliness and at the same time show us the possibilities that arise from this.
(Re)setting in 2020 set out to examine the way humans and sound relate to changing environments. The 2021 theme responds from within the pandemic, carrying forth aspects of the 2020 programme but incorporating Rewire's practical challenge of how to move the festival into the digital landscape. (Re)setting consists of two underlying subthemes. First Online praxis is examining how we experience performances online, use streaming platforms, and how artists can share their work and collaborate both digitally and remotely. Below we are highlighting a few projects which embody the spirit of 'online praxis'.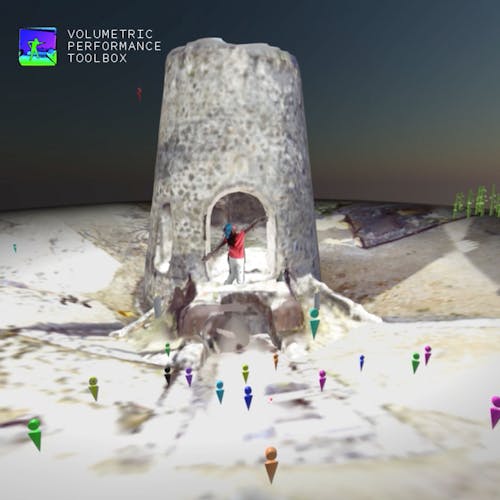 Image: Volumetric Performance Toolbox
Online Praxis
For the record: In Another Setting: In collaboration with Het Nieuwe Instituut, this symposium discusses design tactics for collective music experiences in and beyond pandemic times. It features the Volumetric Performance Toolbox, a collaborative project initiated by movement artist Valencia James, which values accessibility, open source and community; GLOR1A & alpha_rats in discussion around working remotely, interactive projects and prototypes; Archivo Auxilliar, a Mexico City-based collective, and their research on spatial, social, and sound production in streaming events in the covid-19 restricted world; and academic Jason King on the rise of virtual concerts. 
Cy X presents In Pursuit Of Black Noise: In this project multimedia cyberwitch Cy X visually and sonically explores ideas of Utopia and Violence through the use of Sound Synthesis and Glitch Art. Prior to the performance, Cy X will be in conversation to introduce their practice and unpack the research and ideas that manifest in 'In Pursuit Of Black Noise'.
Jessika Khazrik presents Pharmakopoeia قرابادين: A series of hypervideo anti-ads that ecstatically probe the common origins and futures of remedies and media. In this work, artist, writer and technologist Jessika Khazrik seeks to collectivise and subvert the hollow time of waiting that we all experience during our eternal and post-coronial search for healing. 
Acts of Air: Reshaping The Urban Sonic; an online exhibition for active participation: Curated by Lisa Hall, Acts of Air invites you to reshape your urban sonic present by enacting the 14 sound works directly in urban spaces. Each artwork invites a sounding out, a performance, a site specific listening or engagement in the streets, under bridges, by water fountains and extractor fans. They offer a means to explore and interrogate our cities of sound, and can be enacted and activated anywhere around the globe. The audience is encouraged to participate and to share traces of their performances with us. In addition to the exhibition, Lisa Hall will be leading a workshop specifically for residents of Den Haag. Please register here. 
BLACK TO COMM - MM∞XX: A virtual orchestra initiated during the Covid-19 lockdowns. Isolated at a Hamburg studio, BLACK TO COMM started to reach out to former collaborators and old friends, picking up on previous conversations as well as asking people to post short unused sound recordings for a collaborative piece of music.
Clifford Sage presents Tuner: In the world of 'Tuner' we find ourselves aboard a biomechanical cleaning boat sent out on a solo mission to find and rescue earthbound fish. The audience will get to interact  and assist in managing water levels and allow 'Tuner' to perform certain pop hits. The audience will get to make collective votes and in turn change audio characteristics of the performance.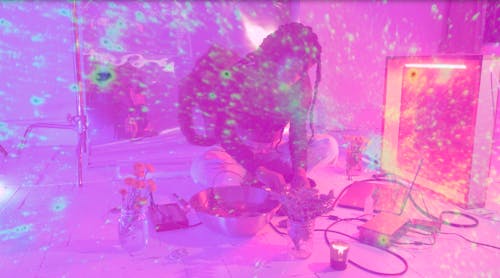 Image: Cy X
Antidote
Antidote is the second subtheme of (Re)setting. It encourages us to find healthier ways of being online as well as explores processes of healing and grieving which appear and reappear in the works of many artists in the Rewire 2021 programme.
AQNB - Reversal Agents: AQNB is an editorial platform working across visual art, music and critical thinking. They have curated and produced four in-depth podcasts to be shared on the Rewire 2021 radio channel. Each explores a different approach to the theme of Antidote. Topics discussed include; Queer Temporalities with Jack Halberstam, On Illness with Every Ocean Hughes and Clay AD, Ritual Technology with Evan Ifekoya and Most Dismal Swamp and New Psychedelia with Zach Blas, xin and Aya Sinclair. Find out more about the podcasts here.
AM Kanngieser presents Between Death And Dying There Is a Hum: AM Kanngieser is a geographer and sound artist, working with listening to think more closely with/in the entanglements of people, time and ecologies. 'Between Death And Dying There Is A Hum' is an intimate journalling of grief, parental death and intergenerational trauma linked to wider constellations of embodiment, cycles of mourning and repair and oceanic tides and flows. You will need to register here in advance to join one of the small listening groups. 
Alberta Whittle presents RESET: Whittle's film RESET deals with fears of contagion, xenophobia and the ensuing moral panic that often follows such anxieties. Exploring timely questions relating to personal healing and the cultivation of hope in hostile environments such as the ensuing global pandemic or colonialism, this urgent political film strikes the balance between grief and reflection, empathy and desire.
Johanna Hedva: Astrologer, writer and artist Johanna Hedva shares a performance of Black Moon Lilith in Pisces in the Fourth House which is as much a mystical grief ritual as it is a droned-out metal concert that summons the holy spirit. This performance is specifically for the faint of heart. It is loud AF and swimming in tears.
Jessika Khazrik in conversation with Johanna Hedva: As artists and friends, technologist Jessika Khazrik joins Johanna Hedva to discuss their album 'Black Moon Lilith in Pisces in the 4th House', the ontology of the eclipse and sound as instantiating astral matter.
Aisha Devi & 118 present SLF - The Sacred Show: Musical alchemist and artist Aïsha Devi and Swiss artist 118 aka Alec Ross are the driving force behind SLF. The Sacred Show is a multimedia, multi-episode, tale of death and enlightenment that is ritualistic, meditative practices and daringly futuristic.
Pussykrew presents Serpent of Self: This interactive essay focuses on sonic and visual primal elements and responds directly to the theme of Antidote, tying mysticism and nature as an underlying theme. Serpent of Self is an exploration of new mythologies, human and nonhuman systems, forced migration and possible futures. A metaphorical reflection on the world.
NYX present Mutualism feat. MA.MOYO & Nick Cobby: London based collaborative drone choir NYX return to Rewire to present Mutualism, a 360 degree immersive audio-visual experience which uses the power of collective female voice to create a metamorphic meditation, embodying our relationship with nature, symbiosis transformation and collective consciousness.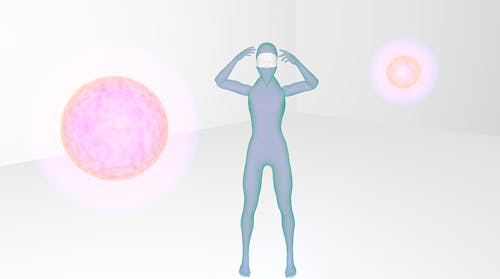 Image: Sophie Mars
Within the Rewire 2021 timetable there are three moments for resetting which encourage the audience to interact and participate with the festival in a way that is grounding, healthy and conscious of their body, mood, feelings and general wellbeing. 
Tabita Rezaire: Tabita Rezaire's cross-dimensional practices envision network sciences – organic, electronic and spiritual – as healing technologies to serve the shift towards heart consciousness. At Rewire 2021 Rezaire invites us on a journey into the ancestrales realms, to call upon those who have walked the path we are walking to inform and guide us. 
Devi Mambouka presents Voice Design: In this workshop, sound therapist Devi Mambouka shares her practice of Voice Design, intended to help with breathwork and visualisation. This meditation aims to optimise our awareness and capacity to listen. Mambouka instructs the audience to:
1.Find a quiet spot
2.Get ready to use your voice
3.Have some water nearby
4.Stay curious
Sophie Mars presents Mindful Mutations: Led by her avatar, dance therapist Sophie Mars shares Mindful Mutations, a movement healing piece which the audience is encouraged to actively participate in.
Acoustics & Listening
(Re)setting also thinks along with Sara Ahmed's Queer Phenomenology, a text also very influential to Brandon LaBelle's Acoustic Justice which thinks about how we work through and with acoustics (which can be understood as arrangements that facilitate listening). These texts along with the following parts of the discourse programme prompt us to acknowledge how systems are built for a particular sound and a certain voice, and the work that needs to be done to upset these structures and 'veer off course'.
AM Kanngieser 'Environmental Listening: On being with/in place': In this talk, geographer and sound artist AM Kanngieser acknowledges that our engagement with the world is always interdependent and situated within environments and place.
Dhanveer Singh Brar: Working across the fields of Black Studies, Critical Theory, Sound Studies and Urban Studies, Dhanveer Singh Brar's research focuses on the aesthetics and politics of sound in black diasporic culture of the Global North. His talk at Rewire 2021 will take us on a journey through London's Wood Green shopping centre.
Salomé Voegelin in conversation with Jennifer Walshe: Salomé Voegelin is an artist and writer engaged in listening and hearing as a socio-political practice of sound. She invites composer Jennifer Walshe into a conversation around text scores, bodies contorting, the usefulness and limits of standard notation, streaming, listening and sounding and hopes for the futures full of bodies sounding and performing.
Peter Cusack: Field recordist, musician and researcher Peter Cusack has a long interest in the sound environment. This talk shares his practice of Sonic Journalism, where field recordings play a major role in the discussion and documentation of places, issues and events and where listening to sounds of all kinds strongly informs the approach to research and following narratives whilst on location. Cusack will also share an overnight radio stream from London on Saturday that captures the sounds of interactions and interferences between the 'natural' and human worlds.
Caroline Claus in conversation with Peter Cusack: Joining Cusack in conversation is Caroline Claus, a Brussels-based urban (sound) researcher. Here they discuss their differing approaches to durational listening and how this can be used to influence policy and practice.
Connie Zheng 'Soil Trance': Soil trance invites the listener to inhabit the body of a seed buried underground. It explores the expansiveness of the hibernative state, and the ways in which the limbo of waiting can also be a space for nurturing unseen rhizomes, for growing sideways and toward the heart of the earth. 
Magz Hall 'Waves Of Resistance': This broadcast is about how radio helps during times of isolation. Sound and radio artist Magz Hall rethinks the human condition in terms of isolation at sea, and how visible and invisible boundaries can be broken via radio waves as an act of resistance and the legacy of radio art across boundaries.