During the Rewire 2021 - Offline Edition, Rewire collaborates with artist run platform iii to present Proximity Music, a tour of installations scattered across The Hague which engage with the senses and the body, with instruments and machines, with ritual and play. Check out the full programme below.
We'd also like to remind you that the first batch of tickets for the Rewire 2021 - Offline Edition go on sale on Saturday 3 July at 10.00 CEST, you can get yours here.
Attend the Facebook event here →

Laurie Spiegel & Mark Fell
Time and Space Shapes for Gamelan (2017)
The work is an installation within which visitors are invited to participate and/or listen and observe. A Gamelan orchestra is arranged in a room. At each instrument is a pair of headphones and a simple set of written instructions. The headphones relay simple rhythmic patterns - each rhythm on each set of headphones is different but linked. The participant wears the headphones and follows the pattern (it does not matter if this is not "perfect"). The written instructions explain what to play and when. There are three sets of instructions (ie three sections) each allocated to a different time of day.
The work draws upon Fell and Spiegel's shared interests, exploring emergent behaviours, group-based performance systems, non-linear structures and procedural action. In this sense the work is less about musical skill, proficiency, expression or emotion and more about engaging in a collective sound-based process.
Budhaditya Chattopadhyay

Dhvāni (2020)
Dhvāni, meaning resonance in Sanskrit, is a responsive and self-regulating sound installation. It draws on an Indian epistemology-informed approach to sound and transcendental listening. The project examines the role of the "self" against the Western art object-based tradition. Departing from the object, the project aims to create "auditory situations" where the selfhood and subjectivity of the listener can become part of the artistic production and consequently the work. In doing so, the project develops an understanding of the role of chance and contingency in sound experience as a mode of creating temporal disjuncture for the "divine intervention" as Indian musician Gita Sarabhai informed John Cage in 1946 helping to shape Cage's subsequent work with chance composition.
Hans Beckers
La Floresta (2021)
'La Floresta' is a performative musical installation. The music is a continuous, uninterrupted composition where different sound textures and rhythmical layers alternate. The main focus of the music lies in the details and subtleness of the sounds of the archaic instruments and natural materials, and the whole range of dynamics arising from play.  "My aim with this work is to bring an audience into a state of deep listening, into a trance-like state, and let them experience sound in its deep differentiations and intensities. This work is a juxtaposition of nature and technology meaning the technology is used as a tool to reinforce the experience and to make natural sounds tangible."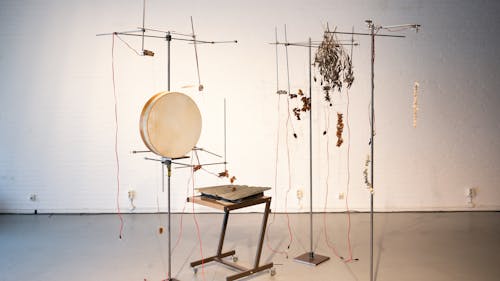 Cathy van Eck
Try to turn the wind (2021)
Soft wind sounds are diffused by two speakers. With the help of your breath you can change the weather: by blowing against the black anemometer the wind turns. If the human breath results in a change in the weather conditions can be heard and felt through the speakers. Depending on the weather conditions you can trigger different sounds using your breath: soft winds, coal mining, speeches of politicians and emergency sirens. In an artificial interaction between sound and air an impression is given of how human action can cause big changes and lead to an unstable system: a small-scale climate change simulation. 
Görkem Arikan 
Singing Sparks (2021)
How do car mechanics diagnose a car engine? Could listening be an act that unites us? This project is a collaboration between sound artist Görkem Arikan, filmmaker Batuhan Keskiner and auto mechanic İbrahim Tokkaya. The work consists of two parts: a sound sculpture created in collaboration between Görkem Arikan and İbrahim Tokkaya, combining auto parts, audio technology and physical computing, and a film by Batuhan Keskiner, documenting the creation process of the sound sculpture at Garage Tokcan in the neighbourhood of Laakkwartier. 
EJTECH
All Direction Is Curved, All Motion Is Spiral (2019)
EJTECH /'eitech'/ is a polydisciplinary studio working with unstable media, experimental interfaces, electronic textile and augmented materials. All direction is curved, all motion is spiral is an installation that reshapes space by means of performative textiles, spirals, sound and light. Sound is emitted by the textiles, allowing matter to perform itself. The audience experiences this sonorous-textile phenomena in layers of emerging patterns; sound wave constellations materialize in ever changing geometric paths, things made of smaller things, spirals inside spirals.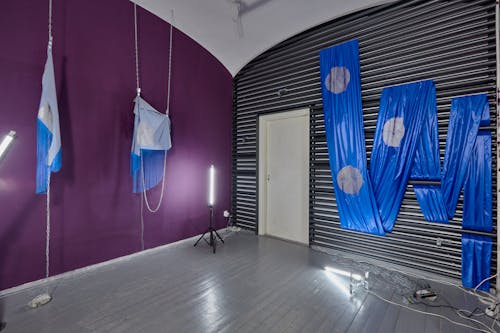 Pelle Schilling
Incandescence Rain (2018)
Incandescence Rain is an immersive installation in which beauty meets danger. A ceiling containing 25 angle grinders create a shower of sparks under which the visitor is invited to walk wearing special protective equipment. Incandescence looks at the beauty that can be found in the metal workshop. "Ever since I can remember, I've been running around the workshop of my father's interior construction company. As a little boy, standing on the stairs, I watched the welders at their work with wide eyes, amazed at the spectacle. As I got older I transitioned from spectator to participant. My primary focus shifted to the functionality of the machines, so much so I forgot about the initial draw. Now for this project, I've taken this beauty out of the context of the workshop so I can be amazed again and share this with others".
Sól Ey
Self-sensory instrument (2021)
The self-sensory instrument is a participatory sound installation that aims to create a physical and social sonic experience. The audience is invited to wear the instrument and thus take active part in creating a music performance. The instrument is an autonomous system consisting of microphones, speakers, and sensors that amplify and transform the participant's movements into sound in real time. The speakers sit tight one the body, so that the sound is experienced as tactile vibrations.
Mariska de Groot 
Incidence of Light (2019)
Mariska uses optical sound as a medium to create immersive environments, where light and sound are one. Incidence of Light explores the possibilities of a single sculptural object and 360˚ light-to-sound scores. Using a selection of white LED's, rotating masks and mirrors, different light frequencies peek through the small openings of a slowly rotating cylindrical graphical score, creating a light composition on the walls and possible objects (and visitors) in the room, while primitive cameras on top of the sculpture scan the patterns and make the rhythmic light / dark parts in the room audible. The translation from light to sound happens one on one. 
Kunrad
*untitled* (2021)
Kunrad takes ideas from computer-based music and embeds them into physical objects. He calls his approach to making sound works SISE (Structural Immersive Sound Experience). With a SISE, all the elements involving the artwork help to emphasize the sound. Object, Actuator, Method, Environment, Time, Perceiver, are all part of the experience and all of the senses have to work together. For his piece *untitled* he will transform a pedestrian bridge into a carillon. Via a system of pulleys and mallets, he will compose, improvise and perform, in response to the environment.