Following our successful collaboration during the Rewire 2021 - offline edition, with iii we present Proximity Music: Sensing After Thought at Rewire 2022. Read more about the full programme below.
Proximity Music: Sensing After Thought is an exhibition which invites visitors to experience focus and distraction, to act and to contemplate. What happens when we stop thinking and start doing and perceiving? Is complexity better grasped intuitively or analytically? Can it help to delegate thinking to machines? 
iii and Rewire present a selection of artworks by international and local artists in and around the new Amare cultural centre in The Hague. Performances and installations temporarily inhabit the multi-layered foyers and the surrounding streets, producing incidental events that function both as discontinuities or disturbances as well as channels to create new connections. 
In a famous conversation between John Cage and Morton Feldman in 1966 the two composers consider the question "is intrusion a distraction or is it culture?" and what it means to be "deep in thought". They suggest how being interrupted can help us move out of thought and into experience. The english word "afterthought" is usually employed in a negative sense, something of secondary importance. What could After Thought mean for us today, amongst all our mindless thinking machines and mindfulness gurus?
Angelo Custodio: HUM (an/other)
Angelo Custódio is an artist originally from Portugal and living in Amsterdam who works with voice and performance. He creates sonic based experiences which address the body and vulnerability from a crip/queer perspective. Within the program of Proximity Music: Sensing After Thought he is presenting his new work HUM (an/other), an immersive participatory installation expanding listening through touch and artificial intelligence. A machine learning system reacting to visitors processes the artist's voice. Visitors are invited to place a custom made tactile transducer on their  own bodies, merging themselves with a hybrid organism. HUM (an/other) is presented in collaboration with Das Leben am Haverkamp at Stille Veerkade 19 with the financial support of Mondriaan Fonds, Stroom Den Haag and Stichting Stokroos.
Arvid & Marie: The Full Body Smart Automatic Manipulator
Arvid & Marie are an artist duo who's work combines nature, technology and humour. With awareness that "we indeed do not understand the machines that we make" they have created performative installations in collaboration with pigs, robots, yeast and AliExpress. Under the guise of a retro futuristic musical duo they present themselves as  "We are Omninaut, how delightful can we be?". Within Proximity Music: Sensing After Thought they exhibit The Full Body Smart Automatic Manipulator, a pseudo-living mechatronic massage chair who talks and offers robotic intimacy services to visitors. Arvid & Marie were residents at Jan Van Eyck Academy in Maastricht in 2020-2021. The Full Body Smart Automatic Manipulator was supported by a Research Fellowship at Chronos Art Center Lab in Shanghai.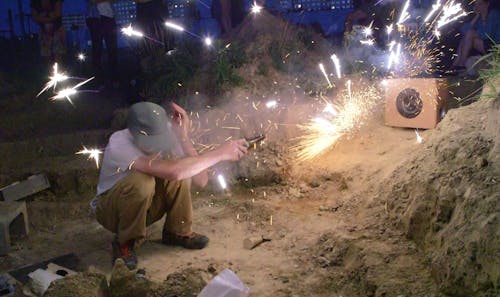 Davide Tidoni: NEIDERLANT OU NEIDERLANT + Ultras Mashup
Davide Tidoni is an artist and researcher working with sound and listening. His work often takes the form of sonic interventions in the built environment which address presence, perception, architectural acoustics and social dynamics. He is interested in the use of sound and music in counter-culture and political struggles and has published a sound-based field research on the italian ultras group Brescia 1911 (/The Sound of Normalisation/, 2018). For Proximity Music: Sensing After Thought he presents NEIDERLANT OU NEIDERLANT, a series of videos which are karaoke interpretations of Dutch songs, transcribed and sung by non native speakers according to the phonetics of their native tongue. Additionally, at unscheduled times, Davide Tidoni will perform Ultras Mashup, a series of performative interventions acting as intentional disturbances.
Gemma Luz Bosch & Jurriaan de Vos: Aircilla
Aircilla is a large-scale kinetic sound sculpture, a mechanical clockwork generating three dimensional animated geometries of movement and sound. More than 250 handmade ceramic chimes hang above visitors appearing like a giant chandelier. The chimes are raised and lowered through a system of ropes, clamps, pulleys and wheels. The raising and lowering of the chimes causes them to collide, creating a soundscape that evolves hand in hand with the shape of the physical structure. Aircilla is a collaboration between Gemma Luz Bosch and Jurriaan de Vos. Gemma is a composer and new instrument maker working with ceramics. In her work she uses her own hand made instruments exploring the boundaries of music. Jurriaan is an installation-artist with a background in physical theatre. He is fascinated by kinetic art, transforming spaces, and the relationship between nature and technology. Aircilla is presented in the foyer of Amare, where visitors can experience it for a month, also during the weeks following Rewire festival.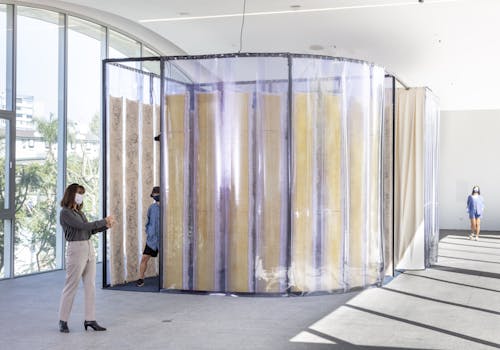 Jacqueline Kyomi Gork: The input of this machine is the power an output contains
Jacqueline Kiyomi Gork is an artist based in Los Angeles with a background in history of communication technologies, acoustics, computer music and contemporary dance. Her work has been described as exploring the "choreographic potential of sound". She plays with sound and architecture, often introducing sculptural elements that modulate how we listen, see and navigate space. The human voice and the human body play a central role in her work. Through the use of both speech and song, language unfolds in it's sonic, semantic and affective dimensions. For Proximity Music: Sensing After Thought, Jacqueline Kiyomi Gork will be presenting a new version, adjusted to the space of Amare, of The input of this machine is the power an output contains: a durational performance investigating public speech. A performer is asked to recite an AI-generated text created with a machine learning system trained on political speeches. The voice is processed by electroacoustic means shifting between intelligibility and unintelligibility. Visitors are invited to come and go at any time and explore the textual and acoustic space together with the performers. This project was created for the exhibition Made in LA: 2020 a version at Hammer Museum with support from VIA Art Fund.
Jesus Canuto Iglesias: The Contemplation Bench
Jesus Canuto Iglesias is an artist originally from Spain and based in The Hague, where he graduated from the ArtScience Interfaculty in 2019. He creates sound sculptures and installations that combine industrial and machine aesthetics with digital media. His work is experienced by the audience as spatial and tactile compositions. For Proximity Music: Sensing After Thought he has been commissioned a new work titled The Contemplation Bench. The work takes the form of a large circular bench made of polished steel, accommodating up to 12 people at once. Industrial vibration motors are placed under the benches. The motors are computer controlled to convey music through tactile vibrations. Visitors are  invited to sit on the benches and feel the composition. Under the disguise of a cold, minimal and industrial exemplar of design furniture, the work addresses touch and intimacy within the public setting of Amare.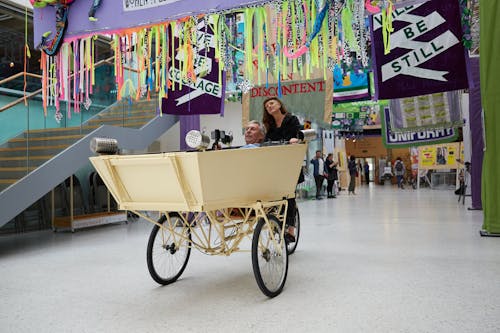 Kaffe Matthews: Buzz Bike
Kaffe Matthews is an established composer/sound artist originally from England now based in Berlin, who has been working for over 20 years around what she calls Music for Bodies. Matthews creates physical listening experiences using new technologies in which musical compositions are inserted within everyday activities such as cycling, lying in bed or kayaking. For Proximity Music: Sensing After Thought she has been commissioned to make a new site specific work which combines her previous geolocated bicycle compositions in the Sonic Bike series with the tactile and meditative experience of her Sonic Bed. Using this new custom made cargo bike, Buzz Bike, visitors can explore downtown The Hague while lying within it, feeling and listening to this new composition moving around them whilst gazing at the sky and the tops of passing buildings. 
Buzz Bike is designed and created by Kaffe Matthews and Nick Martin in association with Imagineer Productions (Coventry, UK). It can hold one adult or several children.
Kexin Hao: Future Dance of Nostalgia
Kexin Hao is a young artist originally from Beijing and based in The Netherlands where she graduated in 2021 from the Royal Art Academy of The Hague. Her graduation work Total Body Workout, investigates through joyful group exercise the authoritarian image of the healthy body. For Sensing After Thought she has been commissioned a new work, FutureDance of Nostalgia, combining ethnographic research, rhythmic choreography and gaming. Taking the form of classic dancing videogames such as Just Dance, the workinvites visitors to perform a choreography based on gestures related to pre-industrial, heavy physical labour. Historical archives of work songs provide the inspiration for the music by Rachwill Breidel, who renders the old tales and melodies into clubbing beats that lead the dance. Visitors can experience the work by playing the videogame as well as by joining group dance sessions taking place daily in the foyer of Amare. FutureDance of Nostalgia is created in collaboration with Leonardo Scarin (game design), Ludmila Rodrigues (choreography).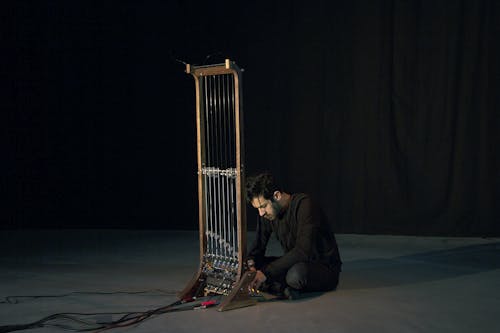 Mihalis Shammas: Lyraei
Mihalis Shammas is an artist with a background in architecture, industrial design and music originally from Cyprus and based in The Hague. He graduated in 2021 from the Institute of Sonology, creating a new electro acoustic instrument called Lyraei. A modern electronic interpretation of the ancient greek harp, this is a string instrument that is played as an electronic synthesiser. Electromagnetic induction electronics designed and fabricated by the artist are employed to excite the strings and generate continuous sounds that can be controlled with unprecedented precision. The instrument is designed to create an immersive and physical experience in which the player leads listeners into a state of trance through dense sonic tapestries. For Proximity Music: Sensing After Thought Mihalis Shammas will perform daily concerts.
Mint Park + Quiet Ensemble
Mint Park is a young electronic musician and new media artist originally from South Korea and based in Amsterdam. Her sound-driven practice investigates space, texture, and natural phenomena. Artist duo Quiet Ensemble, based in Rome, over the last 12 years have created a series of immersive audiovisual works exploring chaotic processes. For Proximity Music: Sensing After Thought, iii and Rewire have invited Mint Park to work with Quiet Ensemble.  The outcome of an intensive 1 week residency in The Hague is a collaborative performance playing with sound, light and fluid dynamics, attempting to govern a miniature ecosystem within a black box theatre space. The performance is presented multiple times per day at Theatre aan Het Spui, directly opposite the main exhibition site of Amare.
Soyun Park + Wellsgoodness: Fantasia Realism
Soyun Park is a digital artist working with image and interaction, originally from South Korea. She graduated in 2021 from the Graphic Design department of the Royal Art Academy in The Hague, where she is currently based. Her powerful and entrancing graduation work Wunderkammer 10.0, created in collaboration with Inwoo Jung and Yelim Ki, carried the viewer through an AI generated audiovisual journey exploring a post-apocalyptic data landscape. Inwoo Jung is a music producer and interdisciplinary artist from South Korea and based in Cologne who is also working under the alias of Wellsgoodness. The program of Proximity Music: Sensing After Thought features a premieré of their audiovisual collaboration Fantasia Realism, connecting the methods adopted by the surrealist during the early 20th century to current research in machine learning. In Fantasia Realism a machine learning system trained on fictional stories such as fairy tales, horrors and thrillers is used to generate a composition of visual and sonic material which the two artists then manipulate live in a theatrical performance. Fantasia Realism is supported by Arts Council Korea.
Proximity Music: Sensing After Thought runs from 8-10 April during Rewire 2022, and is free to access.