The Hague-based artist and composer Oscar Peters has a deep-rooted fascination with the pipe organ. As an active musician in contemporary experimental and electronic music, his recent research and artistic outputs have been focussed on the unconventional use of pipe organs and this instrument's sonic behaviour in acoustic spaces. He has designed and created six of his own experimental organs that have allowed him to further investigate the sonic qualities of these instruments. His album Breath, composed for and performed on his organs is released on the same label that has featured music by Ryuichi Sakamoto and Rewire 2021 alumnus FUJI​|​|​|​|​|​||​|​|​|​|​TA.

During Rewire 2023 Oscar premiered his commissioned project Echos, created in residency at Rewire. The work is written for his self-built organs, delicately weaving together soundscapes that oscillate between hushed noises and lush, prolonged drones, creating a deeply immersive and evocative listening experience. Eight weeks after his premiere we sat down with Peters to look back on his residency and presentation at the festival.
You played three shows during the festival. Did you need some time to recover after such an intense weekend? 
It wasn't only the weekend that was intense, but mostly the three months leading up to the show. During that period I had dedicated as much time as possible to the creative process. In that period I was mostly experimenting with different sets of organ pipes, different instrumentation and electronics. So considering all the hard work, the weekend just gave me a lot of energy!
You played the same show three times, did you feel a difference in response from the various audiences?
We didn't know what to expect, but we had such a thrill playing for three great audiences. The first show was on Friday night, and this was also the premiere of the piece that I had composed. That's always a great feeling, but I must say that I was quite tense that night. After receiving so much positive energy from the audience, we looked forward to performing it twice again on Saturday, but now the edge was gone. These two concerts will always stay with me.
The show was commissioned by Rewire and had its world premiere during the festival. How did that journey start a few months back?
After Bronne asked me to compose this work, I started working out different approaches. As I had worked together with saxophone player Wietse Voermans earlier this year, I immediately thought about collaborating once again. Together we dedicated a lot of time to experimenting with different setups and investigated different ways in which the organs and saxophone connected and disconnected.
What did the show, in the end, look like and who did you play with?
The composition, Echos, that we performed during the festival, was written for my experimental pipe organs, tenor saxophone, and bass clarinet. I am very thankful that I had the opportunity to perform the piece together with Wietse Voermans on saxophone and Fie Schouten on bass clarinet. Besides teaming up with these fantastic musicians, I had the pleasure of working together with Nico de Rooij, who made a stunning light design to enforce the gravity of the music, and Tim Vermeulen, who programmed the lights in such a way that they formed an interactive system with the music.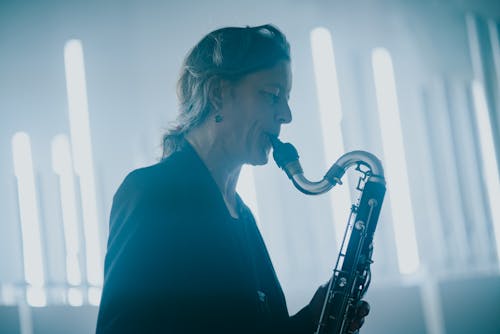 Rewire mentored you during the creation of the show. In what way were you supported during the process?
This process has been great. We had several meetings in which we could talk freely about artistic choices, pros, and cons. But they also linked me to composer and clarinetist Carol Robinson for example. With her, I had several Zoom sessions in which we discussed the stage of the composition, remarks that she or I had, and even ended up having a rather philosophical talk about the role of silence in experimental music composition. 
For those who missed the show during the festival, are you planning to show it anywhere else?
Yes, definitely. After the festival I took the time to make a couple of minor changes, and I'm currently planning a recording session for a digital release. Hopefully, we will be performing the piece again soon.
What's next for you Oscar? 
After the festival in April, I decided that I wanted to redesign the experimental organs that I am performing with. So after drawing up sketches and schematics, I spent the last couple of weeks building a new version of an experimental pipe organ. Although it's not directly connected to live performances, it's such an important part of my artistic practice. So what's next? Exploring this new instrument, and performing with it live as soon as possible!
Thank you Oscar!