King Cobra by rapper Brian Ennals and producer Infinity Knives is part driven by their unconventional workflow, and part driven by camaraderie. The result is a sophomore album that tells unfiltered stories from the United States underbelly.
Brian Ennals and Infinity Knives are an anomaly in the contemporary hip hop scene reigned by solo careers, passing guest appearances, and superstar producers catering to the highest bidder. There's none of that with this Baltimore duo, as they go against the stream while at the same time reconnecting with the 90s hip hop tradition where producer and rapper both front a project. In true Gangstarrian fashion, Ennals and Tariq Ravelomanana (aka Infinity Knives) deliberately share the spotlight, putting the focus on a co-creation process which is far removed from the workflow of many of today's rappers, hopping on a prefabricated beat. Instead they turn the system upside down, starting with the verses. "The first time I worked with Brian, I had him rap to a metronome, and built a beat around it," Ravelomanana told Passion of The Weiss. "Now I'm more aware of how he works, and I can give him a skeleton of a beat. He then sends me a cellphone demo. I listen to his rhymes, write some notes and suggestions about what to put where, and then he'll give me another demo, and I start switching the beat around." It's a complex back and forth process that took time for Ennals to get used to, but it has become the backbone of their collaborative process, said Ennals to Spin. "[Working with Infinity Knives is] not just a guy sending me a beat and asking me to record over it. It's him saying, like, 'Hey, maybe you should take this approach or this flow. Maybe take this line out or switch it around.'"
This exchange eventually led to the release of their sophomore album King Cobra (2022). It is an album to immerse yourself into, to experience the vitriol, rage, philosophy, humour, and myth-making at the heart of Ennals's poetic vocals and Infinity Knives's urgent and unpredictable instrumentals. "This isn't an album meant for you to smile to," says vocalist Ennals about the project, "except when I say something funny." This dichotomy between what's fun and what's dismal is illustrative of the dynamic that powers this duo. They tell the story of two men finding their way through a tumultuous US society, while the music is drenched in a modern day Americana, touching on nihilism and friendship throughout, and wrapped in a blanket of unconventional hip-hop-adjacent sounds like folk and neo-classical. "It's very much how we relate, and how our conversations tend to go," Ennals adds. "We're talking about what's going on in the world, and on the flip side, you have stuff that's very profane or vulgar. That's how we talk to each other, what our conversations consist of. That's what the album really is reflecting; our rapport as friends."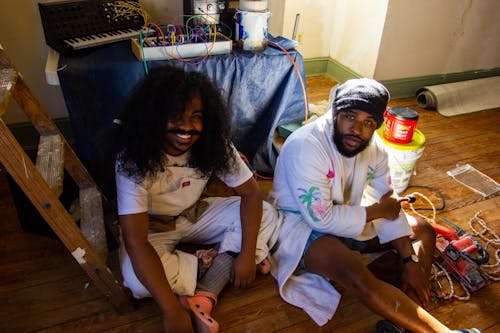 And while there will always be bumps in the road when working with a best friend, Ennals is not planning on letting go of his companion. "I've worked with other producers, but I would say this is the first time I've been produced. He's way more involved than anybody else I've ever worked with, which honestly, man, has just been a huge fucking relief."
Infinity Knives & Brian Ennals perform on Saturday 8 April at Rewire 2023.