With just 3 days to go until the closing event of Rewire 2021, in collaboration with Dag in de Branding, dive deeper into the eye-catching presentation of German electronic music pioneer Karlheinz Stockhausen's piece 'Aus Den Sieben Tagen'. Performed by the eclectically assembled Gareth Davis Group, get to know about this unique, site-specific work below before joining us on Saturday.
Tickets for Rewire x Dag in de Branding are still available, don't miss out!: https://www.rewirefestival.nl/tickets
Gareth Davis Group - Stockhausen 'Aus Den Sieben Tagen'
A site-specific event that explores both sensory and mental perception of crisis by creating a space in which an individual has the opportunity for both concrete and metaphysical reaction to the sound, light and physical space itself.
The piece ''Aus Den Sieben Tagen'' (Karlheinz Stockhausen; May, 1968) is a response to both the personal and the world-wide crisis which were happening at the time of its composition.  The material can be characterised as ''intuitive music'', music produced primarily from intuition rather than the techniques of the performer. This instinctive approach makes it a natural means to tackle mental difficulties and challenges. Considering the current events of 2020-2021, these themes are again just as relevant as they were then.  
The past years have seen the world having to constantly find new ways to adjust to its surroundings, similarly a central concept of this work is finding a way through crises from inside and out. The themes that this work addresses and attempts to solve mirror the current physical and mental obstacles so many people are facing. Lack of social contact, being mentally locked in, sinking foundations (uncertainty), or questioning the value of life and its fragility.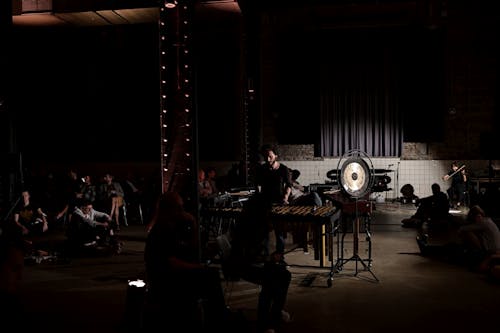 This site specific event reinvents this composition for the present by combining space, light and sound. The ensemble of performers reaches from all directions and includes electronic musician Robin Rimbaud - Scanner, Motorpsycho drummer Tomas Jarmyr, Gareth Davis (Merzbow, Christian Marclay), Roland Dahinden (Miles Davis, Anthony Braxton), Dario Calderone (Klangforum Wien), Agathe Max (Rhys Chatham, Animal Hospital) and and Marketa Schaffartzik. Along with lighting designer Vinny Jones, this eclectic lineup takes elements of experimental rock, improv, jazz and neue musik in creating a work that deals directly with the here and now.