Alto Arc have never before taken to the stage as a group, but they are now ready to bring their highly conceptualized visual and musical project to The Hague, delivering a world premiere concert that promises to cross over into theatre, opera, and devilish dreams.
Alto Arc is a supergroup in the purest sense of the word, featuring a star-studded yet unconventional cast that consists of Deafheaven frontman George Clarke, PC-music affiliated producer Danny L Harle, producer Tayler Tryon from indie-electro outfit Hundred Waters, and creative director and make-up artists Isamaya Ffrench. While the first three have already earned their stripes in the music industry, Ffrench is rather new to the game with only a handful of appearances in music by Sega Bodega and Good Colony.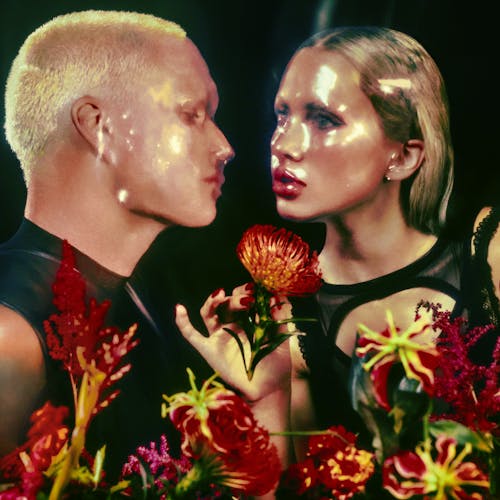 So what does this diverse bunch sound like? The track Nocebo, which debuted on the HBO hit show Euphoria, is a prime example of Alto Arc's craft. Harle and Tryon's fantastic synth progressions are overtaken by crashes of noise and bursts of thrumming percussion, followed by an almost celestial and uplifting rise to the climax, accompanied by Ffrench's whispering voice and Clarke's thundering commandments which resemble military marching orders. Whether the listener is on their way to hell or heaven remains unclear the entire time. What's crystal clear is that the music is strongly rooted in a visual language that targets the listener's imagination. For Clarke and Harle, these visual references were an essential part of Alto Arc from the start, as Clarke mentions in conversation with Dazed. "Fantasy was a very early keyword that we were tossing around. There's an intent for it to be fantastical. And there's an intent for it to be magical. Something Danny had mentioned really early on is that he wanted something that we could enjoy as much as like a 10 year old or an 11 year old could enjoy." 
Watch "Alto Arc - Nocebo (official audio)" by "Alto Arc" on https://www.youtube.com/
This begs the question: how do they translate their maximalist style to the stage? The answer to that has yet to be determined, considering the quartet have never shared the stage in their budding career as Alto Arc. This makes the production at Rewire the official premiere of the Alto Arc liveshow. What's beyond doubt is that the performance will have a theatrical quality, as Clarke mentions in Kerrang. "Especially with Isamaya and I, it's about theatre. This sound, this music that we're making, has much more in common with a large theatrical production than, like a Merzbow show or anything more underground. I think that while we definitely draw from those worlds, this is supposed to be more large-scale and mystifying. Those qualities are really what bring us together." Ffrench especially plays a key role in the creation of Alto Arc's visual identity. As a creative director for brands such as Yves Saint Laurent, Burberry, and Tom Ford, and as beauty editor for i-D Magazine, Ffrench has visual storytelling in her blood. Her vision for Alto Arc is what brings the music to life. "It's a very visual project, almost as much as the music. We were talking about it the other day, and it's all very theatrical and it's very avant-garde. Each of us is an avant-garde artist in our own world and our own work. Like there's a huge element of theatre in it all, like, really over the top. I think we don't want to shy away from that. It's very helpful to go full force with that kind of approach."
Alto Arc will perform on Saturday 8 April in The Hague.