In 2023 Rewire returns to The Hague once again for its twelfth edition. Rewire 2023 takes place from 6-9 April across a number of different venues in The Hague, bringing together a wide range of musical and interdisciplinary performances, specially commissioned works, club nights, installations, talks, screenings, and more.
3-Day passes and Day passes are now available to purchase. A Plus Ticket is required for Soundwalk Collective & Patti Smith.
On Thursday 6 April the festival will be preceded by a freely accessible opening night of talks, listening sessions and film screenings introducing the thematics of the Rewire 2023 context programme. More info on this page. Find the full line-up below.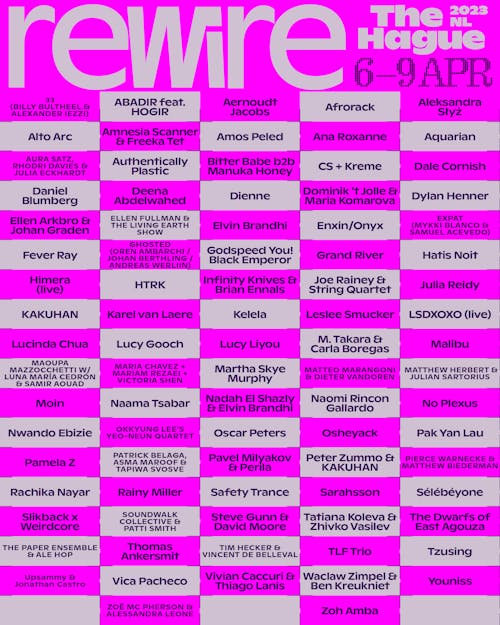 Complete Rewire 2023 programme per day:
Thursday 6 April
Rewire 2023 opening programme:
Rewire Reflections – Writing about Listening – Conversation
CASS concert – Performances and installations by students from Composition, ArtScience & Sonology at the University of the Arts The Hague – Music
Inter/relations – with Heloisa Amaral, Budhaditya Chattopadhyay, Carla Maier, and Mark Peter Wright – Conversation
The Soundscape Speaks – by Hildegard Westerkamp (audio contribution) – Listening session 
Sonus and Sonic Entanglements – with meLê yamomo – Conversation 
Visceral Acts (of environmental listening)  – with Vivian Caccuri, Matteo Marangoni, Vica Pacheco, and Naomi Rincón Gallardo – Conversation
TIMEZONES: Staying Creative Between Beauty and Chaos in Rio de Janeiro – with Vivian Caccuri and Hannes Liechti – Listening session 
TIMEZONES: Ears on/of Makiling – with Hannes Liechti and meLê yamomo – Listening session 
Radio WORM x Rewire – Interviews, reports, and live streaming at The Grey Space in The Middle
Friday 7 April
Music:
ABADIR feat. HOGIR
Afrorack
Aquarian
Aura Satz, Rhodri Davies & Julia Eckhardt 'Occam Delta XX' - world premiere
Binkbeats 'OHM'
Bitter Babe b2b Manuka Honey
Coby Sey
CS + Kreme
Dienne
dreamcrusher
Dylan Henner
Ellen Arkbro & Johan Graden
Ellen Fullman & The Living Earth Show 'Elemental View'
Enxin/Onyx
Fever Ray
HTRK
LSDXOXO (live)
Lucy Gooch
Lucy Liyou
Maoupa Mazzocchetti with Luna Maria Cedrón & Samir Aouad 'The Heels of Joy' - world premiere
Martha Skye Murphy
Mathilde Nobel
Matthew Herbert & Julian Sartorius - world premiere
Oscar Peters 'Echos' - world premiere
Peter Zummo & KAKUHAN - world premiere
Rainy Miller
Safety Trance
Youniss
Zoë Mc Pherson & Alessandra Leone 'Pitch Blender'
Tuning In – by Liew Niyomkarn – Listening session 
Poetics of Listening – with Brandon LaBelle – Listening session
Instrumental Ecologies – with Mark Peter Wright, Matthew Biederman & Pierce Warnecke, Carla Maier, and Liew Niyomkarn – Conversation
TIMEZONES  – Listening station at Page Not Found
Sounding with the Serge Modular – workshop by Thomas Ankersmit
Radio WORM x Rewire – Interviews, reports, and live streaming at The Grey Space in The Middle

Film:
Handsworth Songs (Black Audio Film Collective)
When There Is No More Music to Write, and Other Roman Stories (Eric Baudelaire)
Anyox (Jessica Johnson & Ryan Ermacora)
Saturday 8 April
Music:
33 (Billy Bultheel & Alexander Iezzi)
Aleksandra Słyz 'A Vibrant Touch'
Alto Arc - world premiere
Amnesia Scanner & Freeka Tet 'Snaptrance.webcam'
Authentically Plastic
COUCOU CHLOE
Dale Cornish
Daniel Blumberg 'GUT'
Deena Abdelwahed
Elvin Brandhi
Godspeed You! Black Emperor
Goldblum
Hatis Noit
Himera (live A/V) - world premiere
Hiro Kone
Horse Lords
Infinity Knives & Brian Ennals
Julia Reidy
KAKUHAN
Liew Niyomkarn
Lucinda Chua
LYZZA
Malibu
M I M I
Moin
Morita Vargas
Nadah El Shazly & Elvin Brandhi
Nwando Ebizie 'The Swan'
Oscar Peters 'Echos' - world premiere
Osheyack
Paul Purgas 'Tape Music'
Rewire x Carhartt WIP instore 
Sarahsson
Sélébéyone
Slikback x Weirdcore 'VOID' 
Soft Break
The Dwarfs of East Agouza
The Paper Ensemble & Ale Hop '#17' - world premiere
The Social Lover
Thomas Ankersmit
TLF Trio
Tzusing
Context:
Veering Voices – with Lucy Liyou, Hatis Noit, and Pamela Z – Conversation 
Poetics of Listening – with Brandon LaBelle – Listening session
Elements of Sounding – with Ellen Fullman and Pak Yan Lau – Conversation
Times and Territories – with Budhaditya Chattopadhyay, Afrorack, Maria Chávez, Paul Purgas, Joe Rainey, Stas Sharifullin, and more – Conversation
Expanding Turntablism – with Maria Chávez, Mariam Rezaei, Victoria Shen – Conversation 
TIMEZONES  – Listening station at Page Not Found
Radio WORM x Rewire – Interviews, reports and live streaming at The Grey Space in The Middle

Film:
Twilight City (Black Audio Film Collective)
Who Needs A Heart (Black Audio Film Collective)
Atlantic Ragagar (Gilles Aubry)
Last Things (Deborah Stratman)

Soundwalk:
Beyond forgotten sounds by Margherita Brillada

Education:
Waveformer by Musikarbeiter 
Sunday 9 April

Music:
Ana Roxanne
Church Andrews & Matt Davies
Dawuna
Ghosted (Oren Ambarchi / Johan Berthling / Andreas Werliin)
Grand River 'All Above'
Joe Rainey & String Quartet
Kelela
Leslee Smucker 'Worlds Within' - world premiere
M. Takara & Carla Boregas
Maria Chavez + Mariam Rezaei + Victoria Shen - world premiere
No Plexus - world premiere
Okkyung Lee's Yeo-Neun Quartet
Pak Yan Lau 'Bakunawa'
Pamela Z 'A Secret Code'
Patrick Belaga, Asma Maroof & Tapiwa Svosve 'The Sport of Love'
Pavel Milyakov & Perila - world premiere
Pierce Warnecke & Matthew Biederman 'Spillover'
Soundwalk Collective & Patti Smith 'Correspondences' - world premiere
Steve Gunn & David Moore
Tatiana Koleva & Zhivko Vasilev - world premiere
Tim Hecker & Vincent de Belleval - world premiere
upsammy & Jonathan Castro 'Germ in a Population of Buildings' - world premiere
Waclaw Zimpel & Ben Kreukniet - world premiere
Zoh Amba with Johan Berthling & Frank Rosaly 

Context:
Musicking Resistance – with Giada Dalla Bontà, Andrius Arutiunian, and more
Sampling Stories  – with Hannes Liechti, ABADIR and more artists tbc – Conversation
A conversation with Patti Smith & Soundwalk Collective  
Ritual Time – with Nwando Ebizie – Listening session
TIMEZONES – Listening station at Page Not Found
RA Exchange – with Tzusing
Radio WORM x Rewire – Interviews, reports, and live streaming at The Grey Space in The Middle

Film:
The Last Angel of History (Black Audio Film Collective)
O Gemer (Xabier Erkizia)

Soundwalk:
Beyond forgotten sounds by Margherita Brillada
All days (7–9 April)
Proximity Music: Visceral Acts
Aernoudt Jacobs 'Glass Vibration Gaze'
Amos Peled 'Phantom Limb' - world premiere
Dominik 't Jolle & Maria Komarova 'Tinnere. Behind the Tune'
Jeroen Alexander Meijer 'Ouroboros'
Karel van Laere 'Reach'
Matteo Marangoni & Dieter Vandoren 'Komorebi'
Naama Tsabar 'Untitled (Without) variation 1 & Ruptures (Opus 1)'
Naomi Rincon Gallardo 'Sonnet of Vermin & The Vermin's Radio'
Vica Pacheco 'Mitote & Ollin' - world premiere
Vivian Caccuri & Thiago Lanis 'Fantasma Boca (Mouth Ghost)' - world premiere